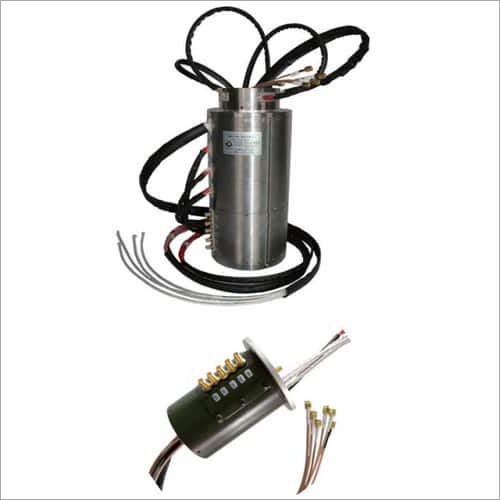 High Frequency Slip Ring
Product Description
Description of our RF slip ring:
High or medium frequency RF slip rings are widely used as essential parts of electrical coaxial cable. To be precise, these slip rings are required for conveying ultra high frequency (UHF) signals, low frequency signals, electrical current and high or medium frequency signals.
Through hole of this slip ring can be easily perceived at its axis center.
The UHF and MHF specifications of this slip ring have been verified on the basis of standard quality checking parameters to ensure about its reliable functioning.
The signal channels of UHF and MHF signal are insulated with high performance sealing medium.
Advanced gold to gold multiple points based contact mechanism has been incorporated into the design of its superposition electrical path to improve its performance and to extend its service life.
The provided RF slip ring can endure various working environment where exposure to vibration, impact, low temperature, high temperature, moisture, heat produced due to damp and salt spray are common occurrences.


Features of our RF slip ring:

Featured with solid structure, this slip ring has hardly any space between each of its channels.
Its ergonomically designed radio frequency connection simplifies its installation procedure.
It helps to reduce the possibility of phase variation and loss of signal power by ensuring high level of insulation.
Guarantees about reliable transferring of anti interference signal sans any signal loss
Outstanding compatibility with different types of working environment
It can be easily harmonized with optical fiber, low frequency current and rotary joint based mechanism for trouble free transferring of gas or liquid.

Typical Applications of our RF slip ring:

Satellite antenna
HD (high definition) video transmission
Radar system

Protected against severe weather conditions, the electrical slip rings designed by us are perfect for applying in marine field and also for various outdoor works. The presence of these slip rings can be noticed in various down hole checking systems, cable reels used in marine arena, pan-tilt heads utilized in outdoor and wind turbines. All these slip rings are acknowledged for their long functional life and compatibility with different working conditions.
The cutting edge slip rings that we provide are extensively used by OEM manufacturers of different fields. Backed with necessary infrastructure, we are proud for providing the tailor made electrical solutions to our valued customers. Our wide array of slip ring assembly and electrical motors covers items like Ethernet slip rings, through hole slip rings, miniature capsule slip rings, compound slip rings, deep water slip rings, large power slip rings, split slip rings and RF slip rings to name a few. All the products offered as part of our slip ring series are meant for meeting precise electrical needs of our customers.
Contact Us
12A South Street, Zhongguancun, Beijing, Beijing, 100043, China