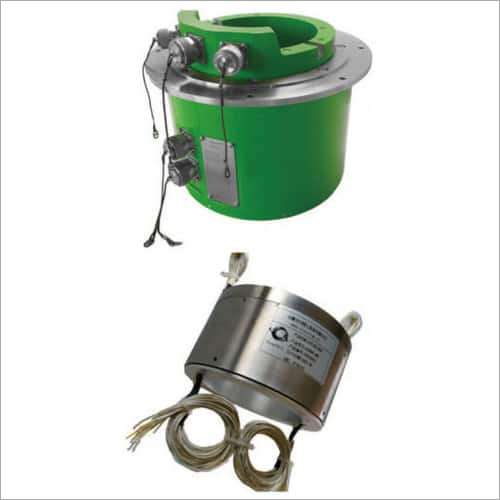 Low Frequency Slip Ring
Product Description
Description of our low frequency slip ring:
The solid structure of this low frequency slip ring is capable of covering the stator and rotor as well. Featured with sturdy body, this small shaped electrical item can be fitted easily. It serves as the reliable option for smooth conveying of low frequency signal and low current.
Its through hole is clearly visible via its axis centre.
Advanced gold to gold multiple points based contact mechanism has been incorporated into the design of its superposition electrical path to improve its performance and to extend its service life.
The axial direction of its electrical path works on the principle of superposition theory. Latest gold to gold multiple point contact located between this slip ring and the brush helps to minimize contact resistivity, reduce fluctuation of resistance and lowers frictional co efficiency of this slip ring.
Long service life
The surrounding electrical paths of this slip ring have been well insulated with standard grade insulation materials.
Its shielding as well as insulation functions are managed as per the transferred signal and available power.
This type of slip ring can easily integrate with different working environments like low temperature, high temperature, damp heat, moisture prone environment, impact, salt spray and vibration.


Features of our low frequency slip ring:

Featured with small shape, this slip ring has solid body and precise dimension.
Due to its flexible design, this slip ring can be fitted sans any trouble.
It can transfer power without raising temperature level.
It helps to minimize generation of electromagnetic waves.
Ensures reliable transferring of anti interference signal sans any loss of signal
Compatible with different environment
It has applications in different industries.
It is compatible with rotary joints for gas or liquid transferring purpose and optical fibre.
Long service life and free from maintenance charge


Typical Applications of our low frequency slip ring:

Robots
Radar Systems
Various Telecommunication Systems
Precision Detection Machines
Fire Control Systems


Customized Options:

Research based projects
Surface treatment procedure
Outer diameter
Connector and wiring based electrical connection
Housing material
Mode of installation and size of installed object


Precisely engineered slip ring is used as an essential part of various power driven systems that include electrical assemblies with rotatable equipment, motors and machine used in defence industry. In fact, these slip rings have vital role in enhancing performance of various machinery by contributing to their user friendly mechanism. What is more, the installation of these slip rings eliminates the necessity of complicated cable and wiring of movable machine joints.
Slip rings are instrumental in effective management of data and or power throughout multiple rings. All these rings are installed in a systematic manner for trouble free transmission of power while rotating. Depending on their application types, the transmitted power ranges between milliwatts and hundreds of kilowatts.
Contact Us
12A South Street, Zhongguancun, Beijing, Beijing, 100043, China